The company "VITYAZ" is a multi-functional security company (Kyiv)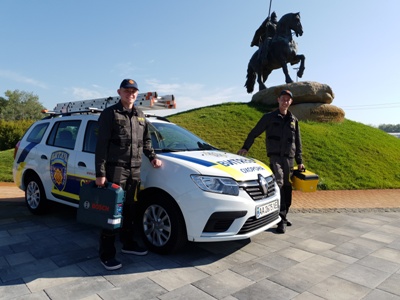 Due to the troubled situation in the country, many citizens have become more attentive to security issues.
Today, both individuals and organizations seek help from security companies (Kyiv), in order to:
protect material assets from damage and theft;
prevent the entry of unauthorized persons into private and business areas;
ensure the safety of family members and employees.
To solve these problems the corporation of commercial security services "VITYAZ" undertakes responsibility. Protecting people's life and health, as well as protecting property and maintaining order are priority work areas for the company.
The main areas of work of the company "VITYAZ"
Do you need security services? Kyiv – the city where you live or do business? Therefore, you should become a client of LLC VITYAZ! We will protect your property from intruders, we will not allow unrest and misbehavior in the territories entrusted to us, we will protect you and your loved ones from attacks. The range of services of our company is wide, it includes both physical security ,and many technical activities.
LLC VITYAZ carries out:
patrol of objects;
cargo escort;
maintaining order at public events;
security services (Kyiv) for individuals;
console protection of apartments in Kyiv;
organization of access control and console protection;
video surveillance and GPS monitoring.
Depending on the type of protected object, the complexity of the situation, the needs of the client and his financial capabilities, we offer a set of measures aimed at the most effective solution of the problem.
Why you should contact our security agency
The modern market of services is rich in offers. However, not all security companies in Kyiv are able to provide security at the same high level as LLC VITYAZ can. The enriched material and technical base, employees' professionalism, impressive work experience – all this allows the company to guarantee customers reliable protection.
Security company "VITYAZ" – is a large enterprise, which employs more than 450 highly qualified employees. Competent organization of labor is the key to the effective interaction of all structural divisions of the company, as well as the integrated use of qualified personnel and modern technical means. An individual scheme of security measures is developed for each customer, corresponding to the situation and level of security.