Reliable physical security of objects in Kyiv and the region: we care about your safety!
No matter how perfect the automatic security system is, without the physical security of the object its full security cannot be ensured. Our employees, who CAN quickly analyze the possibility of the threat of encroachment and immediately take the only correct decision in the current situation, significantly increase the security guarantees.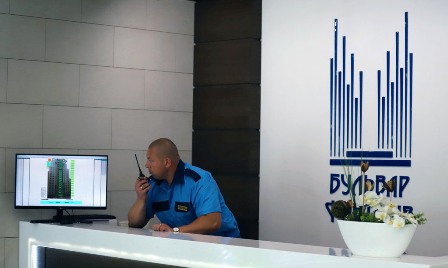 Physical protection of objects for various purposes
Physical protection of facilities in Kyiv for various purposes (educational, cultural and sports facilities, industrial and residential facilities, financial institutions, escort of valuable cargo and others), provides:
warning of unauthorized entry to an object;
the preservation of goods, documents and material assets located at the protected object, the prevention of their damage or removal by unauthorized persons;
the creation of an effective security system, the functioning of the check mode;
guarding the facility by patrol (if necessary);
taking urgent measures when an alarm is triggered or when other non-standard situations arise.
How do we perform the physical protection of objects in Kyiv?
Our specialists make an individual plan for the protection of the enterprise, according to its features and the customer's wishes.
Signing a contract with a client is preceded by monitoring the object to be protected in order to:
analysis of possible risks and threats of encroachment on the object, developing ways to prevent them;
identification of weak links in the security system;
drawing up a security plan.
All events developed by us are coordinated and approved by the customer.
The physical security contract in Kyiv, which we conclude with the client, provides for the full responsibility of the company for the object entrusted to it. Therefore, we are very careful in recruiting. In addition to the interview, candidates for the position of guard in our company undergo a medical and psychological (in the form of a test) examination, as well as an examination of the level of physical and fire training.
The management of the company carries out continuous monitoring of the activities of our employees at the assigned object.